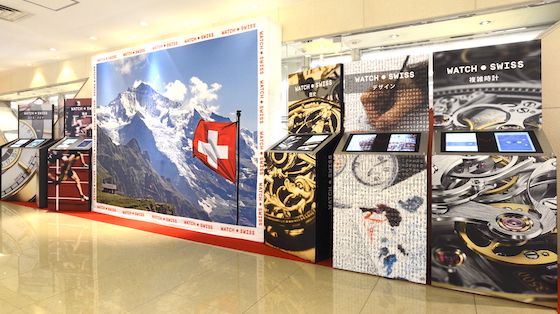 Promotion Event of Swiss Watch Industry, WATCH.SWISS Japan Exhibit in Kyoto from November 9th, 2022
The promotional event produced by Federation of the Swiss Watch Industry FH entitled "WATCH.SWISS JAPAN" will hold a "Watch Festival of World 2022 AUTUMN" in Kyoto at Daimaru Kyoto from November 9th to 15th, 2022 following Miyazaki and Nagoya.
WATCH.SWISS is a study event by using iPad, you can learn about 7 themes related to Switzerland and Swiss watches (Switzerland, Swiss Made, History, Design, Precision, Manufacturing and Complicated Watches), a digital "workbench" will present so that you can assemble a mechanical watch movement though iPad.
In addition, a special event that WATCH.SWISS will invite a special guest, a watch teacher from the Omi Watch Glasses and Jewelry College, not digital but in person, you can experience and enjoy a movement disassembly. A talk event will also be held to introduce the "Swiss Watch Tour: A Journey to the Holy Land of Swiss Watches" produced by the FH Tokyo Center. Please take this opportunity to experience the fascinating world of Swiss watches.



WATCH.SWISS JAPAN in Kyoto
Duration

November 9th to 15th, 2022 

Hour
Location





Daimaru Kyoto 6th Floor Watch Salon
79 Tachiuri Nishimachi, Shojodori Takakura Nishiiru, Shimogyo-Ku, Kyoto 600-8511
TEL:075-211-8111(rep.)
Nominal Support: Embassy of Switzerland/ Switzerland Tourism / Swiss Business Hub Japan / Switzerland Travel Centre / Swiss Chamber of Commerce and Industry in Japan/ Japan Watch Importers' Association

watch.swiss Official website、Facebook、Instagram
watch museum map website

Contact: Federation of the Swiss Watch Industry, Tokyo Centrer
TEL:03-3221-9678 FAX:03-6272-9678 
E-mail:info@fhs.jp Website:www.fhs.jp
November 08, 2022