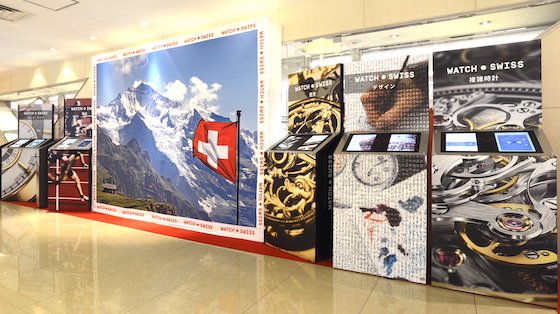 Promotion Event of Swiss Watch Industry, WATCH.SWISS Japan Exhibit in Nihombashi Mitsukoshi, Tokyo from August 16th, 2023 to August 29th, 2023
The promotional event produced by Federation of the Swiss Watch Industry FH entitled "WATCH.SWISS JAPAN" holds in the 26th Mitsukoshi World Watch Fair at Nihombashi Mitsukoshi Honten. The event tool consists of 7 totems, which has 7 different themes about Swiss watches (Switzerland, Swiss Made, History, Design, Precision, Manufacture, and Complication). Moreover, Visitors can also experience the digital assembly of a mechanical watch movement on a touch-screen "workbench".

In addition, the "Swiss Watch Tour": A Journey to the Holy Land of Swiss Watchmaking" produced by the FH Tokyo Center, will be introduced visitors on a tour plan and the highlights of the tour. It can bring the interests of the Swiss Watches and attraction of the Swiss Watch Tour. Please take this opportunity to experience the fascinating world of the Swiss watches.


WATCH.SWISS JAPAN in Nihombashi Mituskoshi, Tokyo
Duration
August 16th to August 29th, 2023  
Hour

10:00

~19:00
Venue




Nihombashi Mitsukoshi Main Store, Watch Gallery Honkan 6F

The 26th Mitsukoshi World Watch Fair
1-4-1 Muromachi, Nihonbashi, Chuo-ku, Tokyo


TEL

:0

3-3241-3311

(Rep.)


Nominal Support: Embassy of Switzerland/ Switzerland Tourism / Swiss Business Hub Japan / Swiss Chamber of Commerce and Industry in Japan/ Japan Watch Importers' Association


watch.swiss Official website、Facebook、Instagram
watch.swiss.japan Facebook、Instagram
swiss watch map Website


Contact: Federation of the Swiss Watch Industry, Tokyo Centrer
TEL:03-3221-9678 FAX:03-6272-9678 
E-mail:info@fhs.jp Website:www.fhs.jp
August 04, 2023